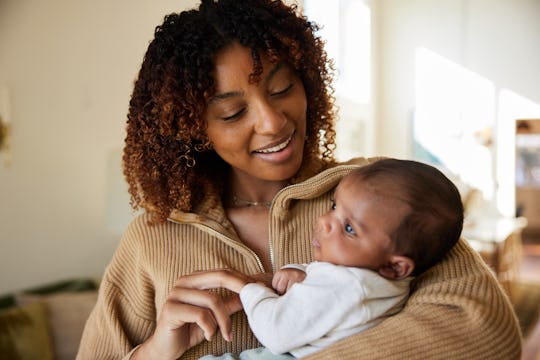 Goodboy Picture Company/E+/Getty Images
Here's How Your Baby Knows You're Their Mom
They're biologically programmed to recognize you.
One of the biggest worries I had before giving birth was whether or not my baby would know I was his mom. Sure, he lived inside of me for almost a year. But once he was out in this great big world, how would he know the difference between me and my mom or mother-in-law, especially since they were so excited to be actively involved in the early days of his care? It didn't take long for me to realize that he could tell the difference between me and his grandmothers, but how does a baby know its mother? It all comes down to the senses.
A baby uses four important senses to help them identify their mom: their sense of hearing, their sense of smell, their sense of touch, and their vision. "Since so many senses are involved in newborns recognizing their mothers, I think it's a combination of hearing their mothers' voices, hearing and feeling their mothers' heartbeats, the smell of their mothers' bodies, and the sensation of being held and touched in a way that replicates what they sensed and experienced in the womb," explains Dr. Jessica Madden, M.D., a board-certified pediatrician, neonatologist, and international board-certified lactation consultant.
If you are a mom-to-be worried that your baby won't recognize you, don't be. They're already in the process of getting to know you and forming a bond.
Studies:
Moon, C., Lagercrantz, H. and Kuhl, P.K. (2013), Language experienced in utero affects vowel perception after birth: a two-country study. Acta Paediatr, 102: 156-160.
University of Sheffield. (2005, April 19). Babies recognise individual monkey faces. Babies recognise individual monkey faces - Archive - The University of Sheffield. Retrieved February 16, 2022
Experts:
Dr. Jessica Madden, M.D., board-certified pediatrician, neonatologist, international board-certified lactation consultant, and medical director at Aeroflow Breastpumps
Dr. Pierrette Poinsett, M.D., board-certified pediatrician and medical consultant for MomLovesBest
Dr. Rebekah Diamond, M.D., board-certified pediatrician, assistant professor of pediatrics at Columbia University, and author of Parent Like a Pediatrician
This article was originally published on