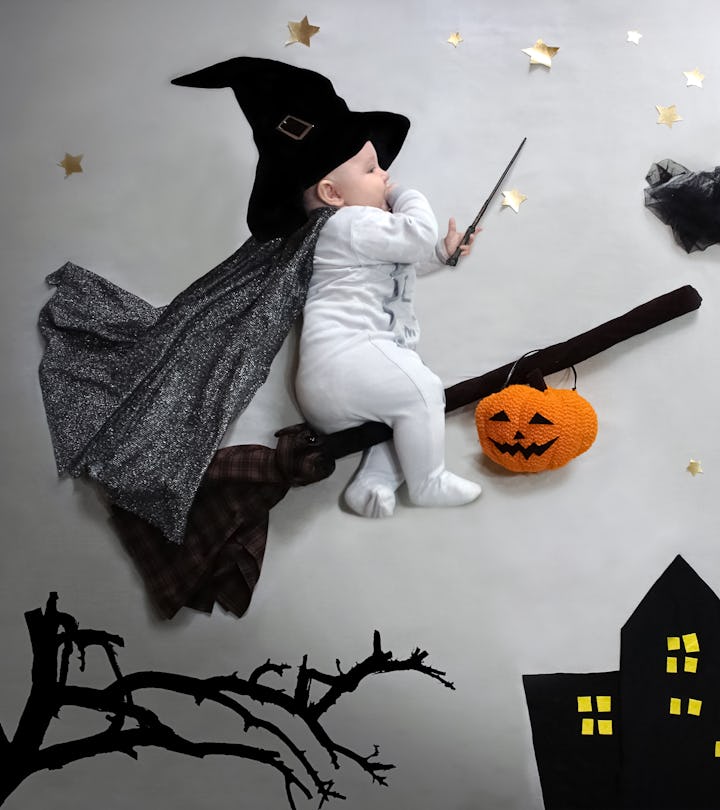 Shutterstock
20 Infant Halloween Costumes For The Tiniest Trick-Or-Treaters
Even if they're flat on their back in a stroller, they'll be ~festive~.
There are few things more enjoyable about parenting than the chance to dress your kid up in a whacky costume and take them door-to-door for others to fuss over. It's peak proud parent feelings. The period of time when you actually get to pick your kid's costume is actually pretty short, as they begin to develop Big Opinions around toddlerhood. There are a ton of cute costumes for older babies and toddlers, but if you are lucky enough to have an infant in the fall and need an infant Halloween costume, the options for bunting, babywearing, or stroller costumes are endless.
Infant Halloween costumes are thankfully pretty simple. Babies aren't known for their tolerance for face makeup or elaborate hats. There are so many options for infant Halloween costumes that are both easy and adorable. Whether you're looking for a family thematic combo or a solo performance, there is a slew of options to choose from. From whoopie cushions to burritos, check out these infant Halloween costumes that are sure to guarantee full candy buckets (and since babies can't eat candy yet, it's all yours).
We may receive a portion of sales if you purchase a product through a link in this article.
However you choose to style your infant for their first Halloween — DIY or delivered right to your door — that first dress-up holiday is one to remember. There are plenty of parenting years ahead where your kid will request to be an obscure character from a video game or change their costume decision on October 30. For now, enjoy the sweet, sweet bliss of being totally in charge of your baby's first Halloween.