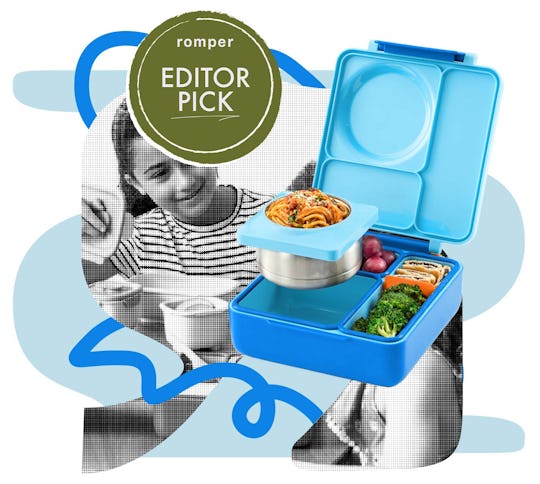 I've Tried Countless Lunch Boxes For My Kid. This One Is Best In Class
It gets an A+ from kids and parents alike.
Had To Share
We may receive a portion of sales if you purchase a product through a link in this article.
Who knew that you'd spend the whole summer before kindergarten pondering the finer points of lunch boxes and wondering how you're going to send the homemade smoothies that your kid seems to prefer to school with him? (Maybe it's just me, but maybe it's you too.) Suddenly, when you consider the length of a real school day — and the rapidly increasing size of your soon-to-be-elementary school kid — that lunch box that got you through preschool looks a little small. You try shoving a bagel in it to no avail, and thus begins a hunt for the best lunch box out there.
Maybe your kid, like mine, is a child of what I will generously call limited palate preferences. You know that to get them to eat, you've got to give a wide array of trusted favorite options, in hopes that one of those rather bland options will appeal on any given day and they'll choose to actually eat and fuel up for the second half of the day. For months, I eyed other peoples' kids' snack boxes, I poked around online, and finally came to see that — quite clearly — the OmieBox Lunch Box was the perfect elementary school lunch box for my 5-year-old. It's easy to open, uniquely versatile, and fits smoothly into a backpack. It's BPA- and phthalate-free. It comes in cute, cheery colors. Most of all, my rather opinionated, often-forgets-to-eat kid actually uses it and eats (most of) what's in it. It simply wins, over and over again.
Stats
Price: $45
Sizes: Just one size, 8.5" x 7.5" x 3"
Colors: Purple Plum (purple with teal accents), Meadow (shades of green), Sunshine (yellow with blue accents), Pink Berry (pink with blue accents), and Blue Sky (blue with orange accents)
Who it's for: Technically the OmieBox is for kids, but adults could happily use it, too.
When to use: Lunch time, snack time, or for a hearty breakfast on-the-go.
What's included in the OmieBox?
The thing that makes the OmieBox so much better than other lunch boxes, bento-style lunch boxes, and kids' insulated containers I've tried is the structured versatility of the design. It was apparently designed by a mom for her 'picky kid' and I can see that in every thoughtful, adaptable detail. This box can be reconfigured in so many ways, so it can grow with your kid and it can meet their ever-changing needs. It comes with:
The main large container
A stainless steel, insulated thermos with an 8.5-ounce capacity
A small divider that you can use (if you want) to further divide up the sections in the box. A tiny detail, but so, so smart. I use it all the time.
The OmieLife store sells lots of add-ons, like a spoon-and-fork set that slides into a pod to keep clean, then loops onto the OmieBox handle. Or a little beverage bottle that fits nicely inside the box. OmieLife also sells spare parts, so if any piece of your kid's lunch box goes missing or gets broken, you don't have to replace the whole thing.
Your kids' meals may look as lovely as this. Or, if you are like me, lunch might look more like store-bought pouches, granola bars and a Starburst. That's also lovely.
The maintenance: How to clean the OmieBox
Yes, you have to hand wash the OmieBox. Do not put this thing in the dishwasher. However, I greatly prefer washing the OmieBox to cleaning our old bento-style lunch box, which always seemed to get wet in places that took ages to dry, like under the little compartment with all the sections in it. The OmieBox gets a speedy soap-and-rinse and it rests easily upside down and I swear it dries really fast. Maybe it's the design, maybe it's the material, or maybe it's both. It doesn't really have obnoxious nooks and crannies, and even the gasket comes off and goes back on super easily. Plus, I often opt to hand wash things the kids use often or need at specific times because it's a big wrench to have the dishwasher running and not be able to access a lunch box or thermos at a crucial moment (like, for example, three minutes before you need to be out the door).
The feel: Can little kids get this lunch box open?
This lunch box is easy for kids to manage on their own, which is so key and weirdly not the case for every kids' lunch box. Our kid used to go to a co-op preschool, which meant that I got to help in the classroom pretty often and — it turned out — spend a substantial amount of time helping people with tiny hands try to work with tricky zippers and metal bento boxes with a zillion little snap tabs. OmieBox has one, big tab at the front that's easy to pop open, even for kids who are still mastering fine motor skills. Plus, it's just one — even if there's a slight struggle, they only have to wrench it open one time and they've unlocked their whole lunch.
The thermos does take a bit of practice, though, so I have so far only used it for keeping things like strawberries nice and cold and not for risky foods like soup or yogurt. My kid is 5 and usually doesn't finish every last bite, so I am worried mainly that he might not close his thermos firmly after eating. I imagine by age 6 or so, he'll be ready for it, or that a more food-motivated 5-year-old could master the thermos with a few practice sessions at home. The easy-to-grab handle of the thermos lid is certainly designed with kids' hands in mind.
The OmieBox is pretty easy for little kids to use by themselves, which is a major bonus.
The backpack test: Is the OmieBox leak-proof?
So far, it seems to be quite leak-proof. The little gasket that lines the seal is removable — which is great for really cleaning the box — so I suppose if your child doesn't finish their entire lunch, and then decides to monkey with the gasket at lunchtime, it's possible you'd experience some leaks. But that would be more on your kid than the OmieBox, which is honestly doing its best not to leak.
How long does OmieBox stay warm? How do you keep food warm in an Omie lunch box?
The (quite adorable) thermos that comes with the OmieBox is supposed to keep food warm for up to six hours. However, it really depends on what you're packing and how you prep the food before filling the therms. OmieLife suggests a few tricks for ensuring that whatever you pack for your kid stays warm:
Preheat the thermos: Pour hot water into the empty, clean thermos and leave it for a few minutes to warm the thermos. Pour out the water, dry if need be, and then add your hot food.
Make sure the food is nice and warm before adding it to the thermos. Warm up your food as much as you possibly can.
Ensure the seal is nice and tight: Double check to be sure the silicone O-ring gasket is installed on the thermos lid.
If you really want to make sure they're getting a hot meal choose "water-based foods" like soup, or sauce-y pasta.
The OmieBox gasket keeps things sealed in tight.
Pros & cons
Pros:
With moveable (and removable) dividers, this lunch box is extremely versatile.
It's easy to open. Its one large tab is a light lift for little fingers that are still mastering those fine motor skills.
You can send cold food — crispy, crunchy carrots or grapes — in the same box as a piping hot container of soup.
You can buy replacement parts for your OmieBox instead of having to replace the whole thing, or go without that one divider you really need.
Cons:
The thermos is a little tricky for the very tiniest hands.
You've got to hand wash the OmieBox, which is a slight bummer.
It's more expensive than some other lunch boxes.
The final verdict
Finding the best lunch box for your kid can be a real comedy of errors — no one wants to find out their lunch box leaks the hard way. It only gets more complicated when your child needs a lot of options in their lunch each day. The OmieBox fits everything I need it to for my kindergartner, keeps it warm or cold as needed, and importantly, keeps all its contents securely inside before and after lunch time. Bright, colorful, and as versatile as it is kid-friendly, the OmieBox is a smartly-designed kids' lunch box with serious staying power.
The TL;DR
This is easily the best kids lunch box our family has tried.
Had To Share highlights the products and finds that Romper editors and contributors love so much, we just had to share in the group chat.