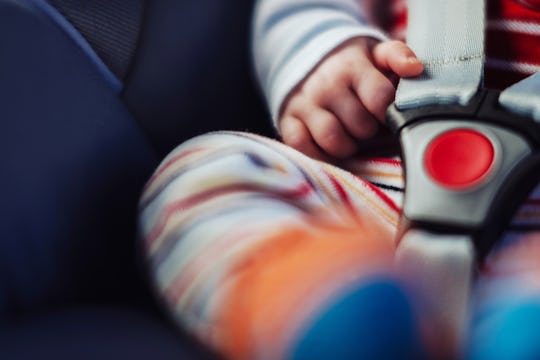 Guido Mieth / Getty images
12 Rear-Facing Toddler Car Seats With The Best Amazon Reviews
Safety and comfort combined.
Remember when we used to turn babies around in their car seats once they hit their first birthdays? It was a milestone, much like their first bite of sugary cake. Now, the American Association of Pediatrics suggests we keep our toddlers rear-facing for as long as possible, until they reach the maximum weight and height limit outlined by their car seat manufacturer.
This position is actually the safest way to drive with your baby. "The rear-facing position provides the best protection for toddlers and infants for their spine, neck, and head during a collision," Dr. Preeti Parikh, M.D., a board-certified pediatrician and executive medical director at GoodRx, tells Romper. That means a lot of us are on the lookout for the perfect seat our kid will tolerate.
"The good news is manufacturers have come out with more options for rear-facing car seats," notes Parikh. "There are three main options: rear-facing only, convertible, and all-in-one. The key is to read the manufacturers' guidelines, follow their instructions, and do your research on what would be best for you," she explains. If you have specific questions or need help with installation, Parikh says there are certified child passenger safety technicians who can help when you visit cert.safekids.org or call 877-366-8154.
The expert
Dr. Preeti Parikh, M.D., is a board-certified pediatrician in New York City, the executive medical director at GoodRx, an assistant clinical professor at the Mount Sinai School of Medicine, and an American Academy of Pediatrics spokesperson.
What to consider before buying
Now that children are expected to stay rear-facing for as long as possible, convertible rear-facing car seats for toddlers that will grow with your child are essential. Convertible car seats typically allow your baby to sit in the same seat from birth until they hit booster-seat age. Some seats are 3-in-1, meaning they are for infants, rear-facing toddlers, and forward-facing toddlers. Others are all-in-one seats, meaning the seat strips down to a booster to accommodate a child until they're between 8 and 12 years old, or tall enough to use an adult seat belt without the added inches.
Amazon is one of the easiest places to compare car seats and check out reviews from a whole lot of parents who have tried and tested the seat with their own kids. These are some of the highest reviewed rear-facing toddler car seats on Amazon, to help narrow down your choice.
We only include products that have been independently selected by Romper's editorial team. However, we may receive a portion of sales if you purchase a product through a link in this article.
Expert:
Dr. Preeti Parikh, M.D., a board-certified pediatrician and executive medical director at GoodRx
This article was originally published on