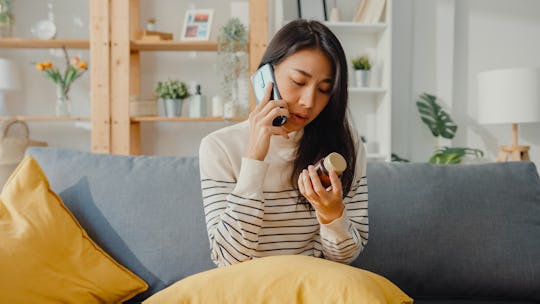 Shutterstock
Your Guide To Taking Tylenol While Breastfeeding
A pediatrician weighs the benefits and risks.
The list of foods and medications to avoid while pregnant is long and, at times, confusing. Once your baby is born, though, it's safe to enjoy some sushi or a cold cut sandwich. However, if you are nursing you are likely to still be concerned about what you are passing on to your little one. This is particularly true with medications. Can you take Tylenol or acetaminophen while breastfeeding? You want to make sure you're not passing on anything harmful to your baby.
Is it common to take acetaminophen while breastfeeding?
Tylenol, which is a brand name for the medication acetaminophen, is a common analgesic (pain reliever) and antipyretic (fever reducer). It is a common choice for nursing mothers who need to treat pain or fever, according to Dr. Betsey Marks, M.D., who is a pediatrician and internist in Albany, New York. In fact, it is preferred by most doctors over opiate pain medication in women who are breastfeeding since it is very safe in almost all cases.
How much acetaminophen can you take?
This drug most often comes in 325-milligram capsules over the counter, and it is safe to take two capsules every four to six hours. Unless directed by a doctor, you should not take more than 10 capsules or 3,250 milligrams in one day. There are 500 and 650-milligram capsules as well, but it is always best to start with the lowest dose and consult with your doctor if that is not sufficient.
Is acetaminophen safe for the baby?
Yes, acetaminophen is safe for babies, says Marks. In fact, it is often given to very young babies to treat their own fevers or pain. The amount that they receive through breast milk is less than what a typical does would be in a syringe of infant acetaminophen — a fact that should put your mind at ease.
What are the risks of acetaminophen while nursing?
Side effects to acetaminophen are very rare, says Marks. Still, she cautions that any medication comes with some chance of risk. "The information here does not replace a conversation with your doctor. It is always recommended to check with your doctor prior to starting any new medications, even over the counter."
Expert:
Dr. Betsy Marks, M.D., pediatrician and internist in Albany, New York