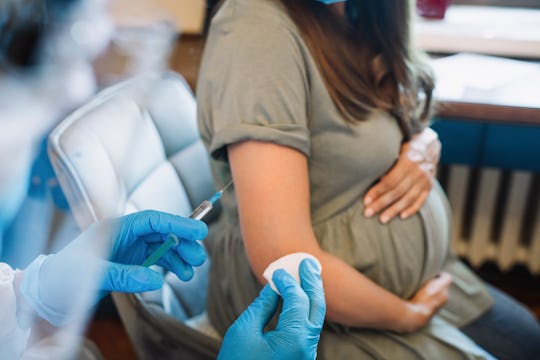 ArtMarie/E+/Getty Images
CDC Recommends Maternal RSV Vaccine During Pregnancy To Protect Babies
The CDC recommendation will make the vaccine much more widely accessible as RSV season begins to ramp up around the country.
About one month after the Food and Drug Administration (FDA)'s initial approval, the Centers For Disease Control and Prevention (CDC)'s Advisory Committee on Immunization Practices (ACIP) voted to recommend Pfizer's Respiratory Syncytial Virus (RSV) vaccine for pregnant people who are between 32 and 36 weeks pregnant.
In its official recommendation, the CDC states that Pfizer's bivalent RSV vaccine (brand name Abrysvo), was found to reduce an infant's risk of RSV hospitalization by 57% in the first six months after birth. The shot is already available in some locations in the U.S., and that "availability is expected to increase in the coming weeks," according to the CDC.
The American College of Obstetricians and Gynecologists (ACOG) also released a statement immediately following the ACIP meeting sharing its "unequivocal support" for this new recommendation. "ACOG unequivocally supports ACIP's recommendation for the use of the maternal RSV vaccine in pregnancy during 32 through 36 weeks gestation using seasonal administration," the statement reads. "The national and global burden of RSV disease demonstrates how critical it is to prevent this virus in infants. ACOG believes the maternal RSV vaccine is efficacious and it is necessary that parents have this option to protect their newborns from RSV after birth. ACOG is currently making updates to its clinical guidance that will be released in the coming days."
Many pregnant people were thrilled to hear the news that the FDA had approved Pfizer's maternal Respiratory Syncytial Virus (RSV) vaccine back at the end of August. Because the shot is given to pregnant people between 32 and 36 weeks, and with RSV season — which typically starts in October — fast approaching, pregnant people around the country began to seek out doses as soon as the FDA approval came. However, despite the fact that the shots had been rolled out for people over age 60 and were, therefore, already widely available in pharmacies around the country, pregnant people were being turned away.
"I think we're all used to a Covid timeline, where something gets approved by the FDA, and then CDC meets immediately afterward and people are able to get it," a Pfizer spokesperson told Romper. "In a traditional timeline, when a vaccine gets FDA approval, there's usually a one-month lag between approval and the meeting of the advisory committee."
With today's CDC recommendation, the life-saving shot will now be vastly easier for pregnant people to access via their OB's office or at a local pharmacy, and should be covered by insurance.