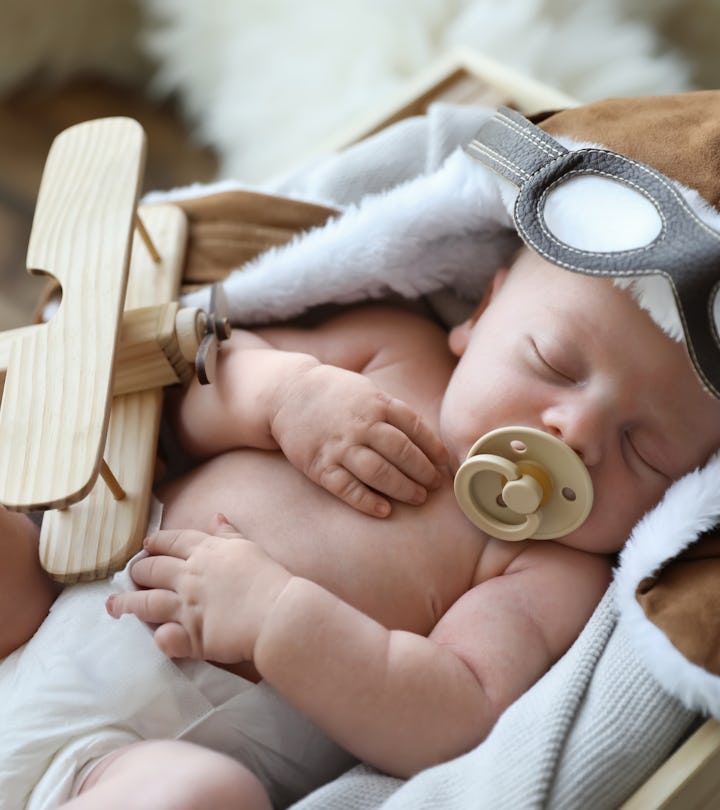 Shutterstock
City-Inspired Baby Names For Your Newest Travel Buddy
From Adelaide, Australia to Savannah, Georgia, there's a city name you'll love.
My favorite thing about choosing a baby name is when the name has some significant connection to your life. Of course it's nice to just hear a name and love it, but adding in a middle name that reflects a family member's name or choosing a name that means something to you and your partner is just the best. That's why looking at city baby names can be such a great place to start. Whether you want to name your baby after the city you honeymooned in, or just want to choose a baby name inspired by a city that you love and that means a lot to you, there are plenty of options.
City Baby Names For Girls
Adelaide: Addy and Lai are cute nicknames based off of this city in Australia, which is known for its museums and art festival.
Alexandria: Both a city in Egypt and in Virginia, Alexandria is a pretty classic girls' name that can be inspired by two beautiful cities.
Ann: Short for Ann Arbor, Michigan, a city known for the University of Michigan — it makes for a pretty daughter's name if you're especially fond of the Wolverines and yelling "GO BLUE."
Brooklyn: Inspired by one of New York City's boroughs, Brooklyn is a sweet little girl's name with a spunky flair, especially when you consider Brooklyn attractions like Coney Island.
Char: short for Charleston, South Carolina, you could pronounce this as "CHar" or "shar" for a cute, southern nickname-as-a-name.
Charlotte: Charlotte, North Carolina is a happening southern city, and also inspires some great nicknames like Charlie or Lottie.
Cheyenne: Cheyenne, Wyoming is known as the country's rodeo capital, so if you're a fan of western-themed names, consider this one as an ode to a historic city.
Chi: This cute girl name can be short for Chicago, Illinois, and is pronounced "shy." Kim Kardashian chose the full name of Chicago for her fourth baby, so you could go that route, too.
Christi: Short for Corpus Christi, Texas, Christi is one of those baby girl names you hardly ever hear, and I love having it end with an I instead of a Y.
Florence: The capital of Italy's Tuscan region, Florence also makes for a pretty beautiful baby name. I love Flo as a nickname, and it just sounds so romantic and lovely.
Madison: Madison, Wisconsin is a smaller city than some big metropolitan areas, but it's known for some great venues and museums, and Madison is a classic girl's name.
Millie: I love Millie so much as a name short for Milwaukee, a city steeped in some history.
Minnie: Another shortened baby name, Minnie can be a great one for Minneapolis, Minnesota.
Paris: I mean, is there a better baby name than one inspired by the City of Love? Paris is just so cute.
Savannah: A classic southern city full of history and good food, Savannah makes for a lovely girl name with vintage, timeless vibes.
Selma: Talk about a southern city with some history, Selma, Alabama played an enormous role in the Civil Rights Movement and can inspire a really gorgeous girl's name.
Sofia: Sofia is the capital of Bulgaria with some incredible architecture, and it makes for a sweet baby name.
Sydney: Sydney, Australia is an amazing city, and even if you've never visited the Land Down Under, I love the name for your baby.
Rosario: Rosario, Argentina is one of the largest cities in the country and is a river port, so there's always a lot happening there. You can go for Rose, Rosie, or even Rosario as a full name.
Vienna: Vienna, Austria's capital, is known for arts and literature thanks to Mozart, Beethoven, and more, and I just love Vienna for a little girl. Call her Vi for short!
Winnie: Another name from the south, Winnie can be short for Winston-Salem, North Carolina.
City Baby Names For Boys
Antonio: Short for San Antonio, Texas, Antonio is a super traditional boy name and has a certain flair about it that I love.
Austin: Inspired by Austin, Texas, the baby name Austin has a western, funky vibe.
Baker: Short for Bakersfield, California, the baby boy name Baker is just so cute and preppy.
Beau: For another southern choice, there's Beau, which can be short for Beaufort, South Carolina.
Branson: Branson is an adorable boy name inspired by Branson, Missouri, a city known for its art, theater, and entertainment.
Dallas: Inspired by Dallas, Texas, the baby boy name Dallas has a very cute western vibe.
Darwin: Darwin, Australia is a pretty huge city responsible for a lot of industries like mining and horticulture. Give this name inspiration to your little guy who's going to get stuff done.
Denver: Denver, Colorado is a hugely popular city and is a must-use baby name if you are an outdoor-loving, adventurous family.
Fred: Short for Fredericksburg, Virginia, Fred is a traditional "old man" name you don't hear a lot anymore and deserves a comeback, especially with its ties to the city's colonial history.
Knox: Short for Knoxville, Tennessee, the baby name Knox has a definite southern flair.
Louis: Louis is an adorable boy name, and it can be an ode to St. Louis, Missouri, especially if you're a Cardinals fan.
Lyon: Lyon, France has 2,000 years of history right in its center, making it a romantic and lovely baby boy name.
Memphis: The south has a bunch of great cities, and Memphis, Tennessee is one of them and makes for a very fun boy name.
Nash: Short for Nashville, Tennessee, the baby boy name Nash is just so darling.
Paul: Paul is obviously a classic, traditional baby boy name, and it can also be short for St. Paul, Minnesota.
Phil: Philadelphia is known as the City of Brotherly Love, so I love the name Phil as an ode to a city rich with history and character.
Phoenix: Phoenix, Arizona is a hugely popular city, and also makes for a trendy boy name.
Richmond: Richmond, Virginia has a lot to offer, and you could use the full name for a baby boy, or just call him Rich.
Wells: Wells, Maine is known as "the friendliest town in Maine" and I truly love the name Wells for a little boy. It's just preppy and classic enough.
Gender Neutral City Baby Names
Bristol: Bristol, England has a wonderful maritime history, and Bristol makes for a beautiful gender-neutral baby name.
Brighton: Brighton, England is a seaside resort full of fun and history, and Brighton is just the cutest gender-neutral baby name.
Indi: Short for Indianapolis, Indi makes for a really cute baby name for boys or girls.
Lincoln: Lincoln, Nebraska is home of The University of Nebraska, a popular Big 10 school, and Lincoln — or Linc — as a baby name makes for a nice ode to the city.
London: The capital of England, home of Buckingham Palace, the birth place of Paddington Bear and Platform 9 3/4 — no matter why you love London or find the city meaningful, it's a great baby name.
Mel: Short for Melbourne, Australia, Mel is a great choice for boys or girls.
Raleigh: Raleigh, North Carolina is the capital of the state, and makes for a cute baby name.
Salem: Whether you're feeling witchy or not, Salem can be a baby name that's an ode to Salem, Massachusetts.