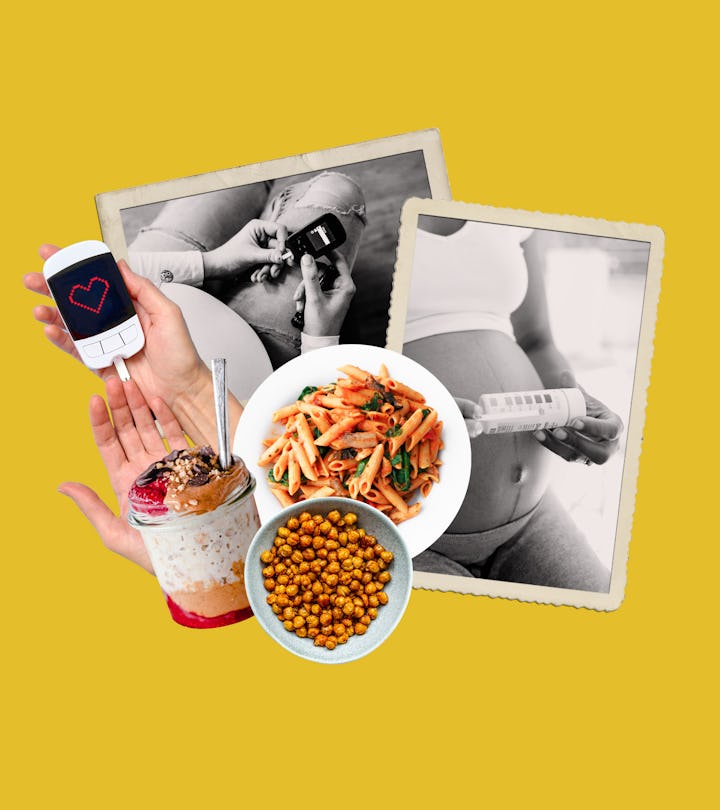 The Best Gestational Diabetes Recipes From Breakfast Through Dessert
Because yes, you *can* eat carbs.
Gestational diabetes is one of those pregnancy possibilities that can happen to anyone — it's why literally everyone is tested during pregnancy. But the diagnosis can still feel jarring, and while you may be worried about how it will affect your baby, it's also overwhelming to think about the overhaul in your diet during pregnancy, especially with all the misconceptions. Luckily, gestational diabetes recipes can still include all of your favorite foods — including carbs.
"It's a myth that you can't eat carbs if you have gestational diabetes," Registered Dietitian Mel Spinella of Well By Mel Nutrition tells Romper. "Many nutritious foods contain carbohydrates, and it's important not to eliminate them, especially during a critical time like pregnancy."
The trick with eating when you have gestational diabetes is realizing that everyone's going to have a different experience. "Everyone's blood sugar response is slightly different, so it's important to be checking your blood sugar and working with a registered dietitian to manage your personal nutrition plan," Spinella says. Since carbs are the food that have the biggest impact on your blood sugar, she recommends being mindful of portion sizes, as well as pairing carbs with a source of protein, fat, and/or non-starchy vegetables.
"Additionally, it's important to eat meals and snacks consistently — about every three to four hours. Going too long between meals and snacks can also impact your blood sugar," she adds.
So don't let yourself get hangry, and just be mindful of what you're eating and track your numbers alongside your food log. You may find that half a bagel when paired with eggs and avocado doesn't bother you, but a full bagel on its own sends your blood sugar skyrocketing. Spinella recommends gestational diabetes snacks like apple and peanut butter, grapes and a cheese stick, or fruit and cottage cheese. Greek yogurt is also a great option, and the following recipes may be just right for managing your gestational diabetes.
Gestational diabetes can affect everyone differently, so it's important to keep a food log and make note of your blood sugar numbers so you can see if specific meals spike it or keep it regulated. Eating with gestational diabetes can basically be a lot of trial and error — you may find that certain ingredients are just no-no while some, even simple carbs, can be incorporated into your diet without a problem. It's important to keep in touch with your healthcare provider about your diet and blood sugar numbers, and let them know if you're struggling to find a combination of meals and snacks that works for you.