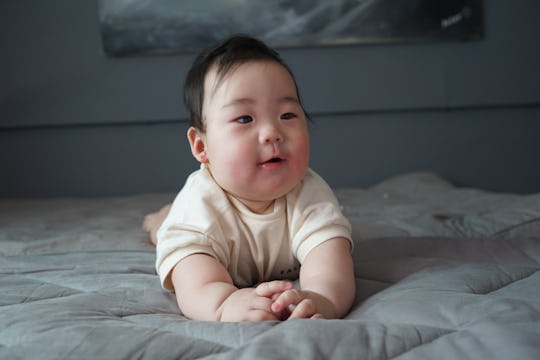 wisdom1106 / Imazins/ImaZinS/Getty Images
20 Korean Boy Names That Are Beautiful In Sound & Meaning
There are so many amazing options.
When you're thinking of baby names, inspiration can come from anywhere. You might to hone in on the history and heritage of your family, or places you've traveled to, like Korea, for example. If you can't get enough of all things Korean, you might want to bestow any one of these 20 Korean boy names on your little beloved.
Giving your child a Korean name isn't like baby-naming in the U.S. For starters, Korean baby names are comprised of two parts — a given name and a family name, according to Mom Loves Best. The given name functions as the first name, while the family name is your child's surname. And don't skip over the syllables, since they function as an important part of the name. Korean baby names tend to be comprised of three syllables: two syllables for the given name, and one syllable for the family name.
And because so much is riding on a Korean baby name, parents-to-be sometimes will go to an elder (usually a grandfather) or even a professional baby namer to ensure that the baby's name is accurate, appropriate, and something that the entire family will be proud of, BBC.com reported.
Whether you're honoring tradition, your family's heritage, or how visiting Seoul touched your own soul, these 20 Korean boy names are beautiful and so, so meaningful.
As you're curating your baby name list, consider any one of these Korean baby names for your little boy. Some might be gender-neutral, some might be steeped in history, and some might be an ode to nature, but all are beautiful and symbolic for your little sweetie.