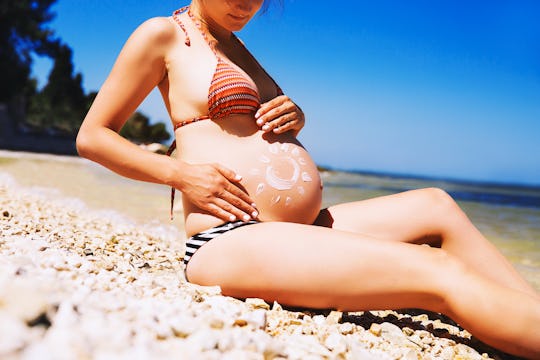 Shutterstock
How To Avoid & Treat Prenatal Sunburn
You don't want to accidentally burn your bump.
Summer will soon be here, and that might mean that you and your bump will be on a beach or some other body of water. And since hot temps and pregnancy are not always the best of friends, you're going to want a way to keep yourself (and your belly) cool. But protective mama that you already are, you might be worried about the potential for sunburns during pregnancy and how it might affect your baby. If you're planning to rock a bikini or otherwise expose your beautiful bump to the sun's rays, you're going to want to know how to do so safely. So grab some pregnancy-safe sunscreen, a big glass of H2O, and read on to learn what you need to know about prenatal sunburn.
Is it possible to get a sunburn on your bump?
Soaking up the sun's rays might feel good on your skin in the moment, but the unwanted after effect (particularly if you've been out in the sunshine for too long) of red, burning, and potentially blistering skin isn't. So just like the rest of your body, your bump can definitely get a sunburn. That makes sense, since your skin is certainly more sensitive during those nine months. In fact, about 90% of pregnant women reported skin changes, a PubMed study found. Estrogen increases the production of melanin, which can cause pigmentation changes (your areolas darken and the linea nigra appears, for example).
And if you've noticed that your skin burns faster when you're expecting, well, you're right. "Increased hormone levels during pregnancy can make the skin more sensitive to the sun, so it's important to wear sunscreen," Dr. Michael Green, M.D., a board-certified OB-GYN in Lake Arrowhead, California tells Romper.
Does a sunburn on your belly affect Baby?
Now that you know that your skin is more susceptible to burning, it's understandable that it could cause concern for your baby's well-being. But not to worry, because a sunburn will only make you feel uncomfortable — and not hurt your fetus. "A burn on your stomach won't harm the pregnancy or the baby," Dr. Shieva Ghofrany, M.D., an OB-GYN and co-creator of Tribe Called V tells Romper. "The bigger issue is making sure that you don't get too hot or dehydrated."
Still, that doesn't mean that you should shy away from the sun and stay in the shade while everyone else is frolicking and having fun. As it turns out, some sun (read: for about 20 minutes at a time) is actually beneficial for baby. "Vitamin D is good for us, and one of the most common ways is through sun exposure," says Ghofrany. "It may reduce the risk for pre-eclampsia, and has a favorable effect on baby's growth." Researchers have found that there is a connection between the role of vitamin D and pre-eclampsia, although it's unclear if it's possible to prevent the pregnancy complication solely by the sun's rays and vitamin D.
Here's how to choose pregnancy-safe sunscreens
Once you get a sunburn on your baby bump, you might not want it to happen again. That's when you'll need pregnancy-safe sunscreens. Although there is really no such thing as a completely pregnancy-safe sunscreen, you can still slather your stomach with sunscreens that are better for your bump. "Sunscreen products with zinc oxide are a safer option for expecting moms when compared to alternative chemicals commonly included in sunscreens," says Green. "The brand I always recommend is Thinksport Safe Sunscreen. It is extremely water resistant, has a SPF of 50, and offers protection for up to 80 minutes."
We at Romper only include products that have been independently selected by our editors. We may receive a portion of sales if you purchase a product through a link in this article.
Of course, you can have a great sunscreen that protects your skin, but if you don't apply enough, it's all for naught, Ghofrany says. "People notoriously underestimate how much to put on, so you'll need to keep reapplying," she says.
Additionally, there are other ways that you and your belly can stay safe in the sun. "Of course, you should wear sunscreen, but you should also wear UV-resistant clothing, try to stay in the shade, don't be outside during peak hours, and drink lots of water," she says. "If you can wear a shirt after some sun exposure, that's even better."
Although some sun exposure is good for your body (and for baby), overdoing it can result in prenatal sunburn. And while a sunburn won't affect baby, it can make you pretty cranky. But the bright side is that while you soothe your sunburn with some aloe vera lotion or calamine lotion, you'll get to bond more with your baby as you lovingly rub your bump.
Studies referenced:
Kar, S., Krishnan, A., Shivkumar, P. "Pregnancy and Skin" 2012.
Purswani, J., Gala, P., Dwarkanath, P., Larkin, H., Kurpad, A., Mehta, S. "The role of vitamin D in pre-eclampsia: a systematic review" 2017.
Experts:
Dr. Michael Green, M.D., a board-certified OB-GYN
Dr. Shieva Ghofrany, M.D., an OB-GYN and co-founder of Tribe Called V