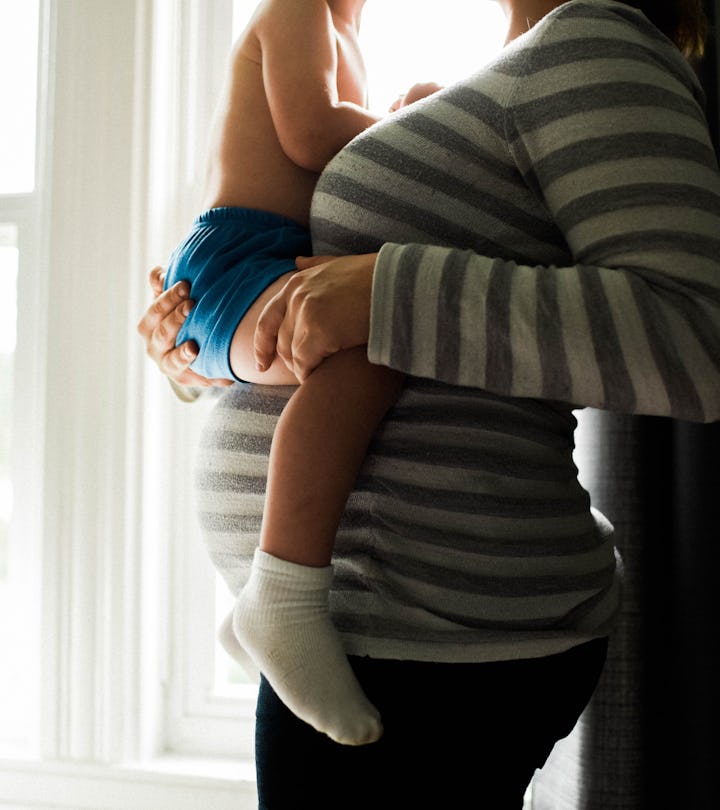 Cavan Images/Cavan/Getty Images
10 Ways Tell Your Partner You're Pregnant Again
Even if they kind of already know.
Some of the best news you'll ever get to share in your life is that you're expecting a baby for the very first time. There will be gasps, screams, tears from friends, family, and especially your husband or partner — no one will share in the utter exhilaration of this exciting time quite like they will. But when you're pregnant for a second time, telling your partner the news can be just as special, if not more so. So if you're looking for creative ways to tell your husband you're pregnant with baby number two, these ten fun ideas will show you — and your partner — that the second time is truly the charm.
There are so many creative ways to tell your husband that you're pregnant again. You can hold up a sign showing that there's another little one on the way or snap a shot of all your shoes — plus a pair of baby booties, too. Truly, you'll only be limited by your own imagination in terms of how you want to announce the news. The best part is that you can include your little accomplice in the pregnancy announcement, whether they can read yet or not. Have your child announce that they're going to be a big sibling soon, or hold up two fingers in a super special selfie.
Get ready to share the special news with your sweetie with second pregnancy announcements that will let everyone know that your family is about to grow.
You can have just as much fun telling your husband that you're pregnant again as you did when you were expecting the first time around. Be sure to include your mini-accomplice to make spreading the news even sweeter.