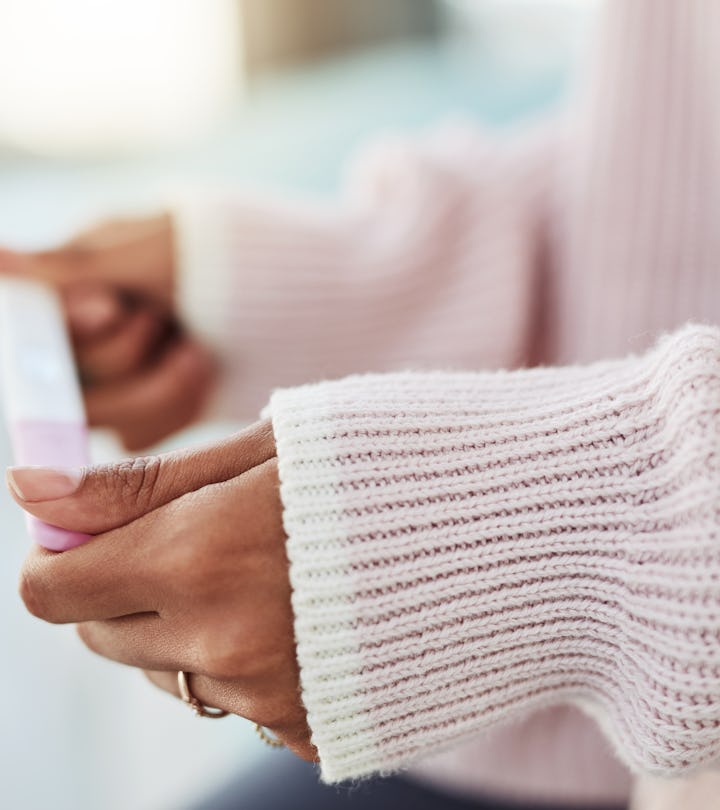 LumiNola/E+/Getty Images
What Does A Faint Positive Pregnancy Test Mean?
Yeah, it means what you think it means.
Whether you're hoping for a positive, or not, waiting to read the results of a home pregnancy test can be incredibly nerve-wracking. It's finally time to take on, and pee on the stick, and wait. A few minutes later, you nervously check and — is that a second line? There you are, squinting at stick, turning on the brightest light you've got, calling your friend or partner to come take a look at the lines on that test, too. Suddenly, the moment that was going to offer all the answers is here and all you've got are more questions. So what does that faint positive pregnancy test actually mean? Are you pregnant, or what?
What does a faint positive pregnancy test mean?
Home pregnancy tests detect the presence of human chorionic gonadotropin (hCG), and they are, for the most part, very accurate. If you see a even a faint positive, that most likely means that hCG was detected. "The strength of the positive test line depends on how much hCG is in your urine. If the line is faint, it usually means that the hCG level is low," explains Sally Haworth, a care line manager at Clearblue. If you have an extra pregnancy test or two, it might make sense to test again for peace of mind. And, of course, contacting your health care provider is the best way to schedule a blood test to fully confirm a pregnancy so you can discuss the best next steps.
Why are my hCG levels low?
There are a few reasons that your hCG levels may be low, Haworth says. It may be that you're still simply in the very, very early hours and days of pregnancy. "Some very sensitive pregnancy test kits can detect pregnancy as early as 6 days before your missed period (5 days before you expect your period), however the levels of hCG this early are so low that you can expect any line to be faint," Haworth explains. If the pregnancy progresses over the coming days, the levels of hCG will rise, so if you choose to test again, you will likely see a much stronger positive line.
Studies Cited:
Kennedy C., Yeh PT., Gholbzouri K., Narasimhan M., ( 2022) Self-testing for pregnancy: a systematic review and meta-analysis. BMJ Open Access, https://www.ncbi.nlm.nih.gov/pmc/articles/PMC8886405/
Expert:
Sally Haworth, Clearblue Community and care line manager