Make It Part Of Your World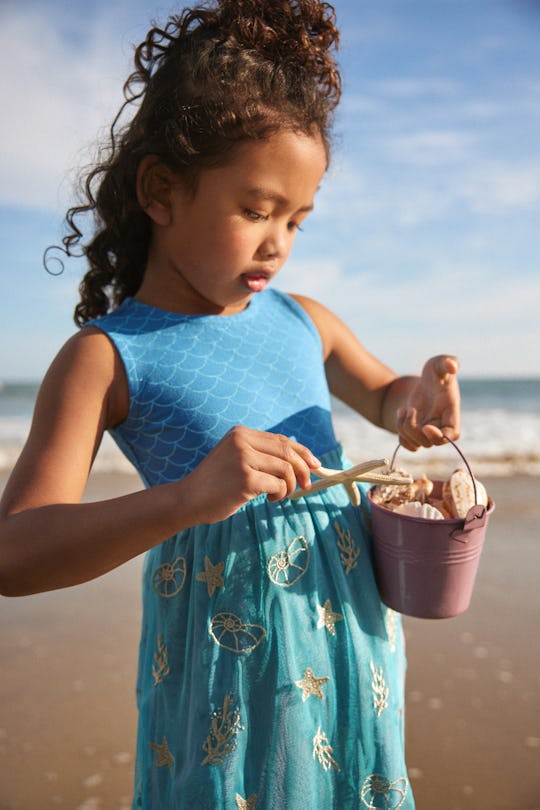 The Hanna Andersson Little Mermaid Line Is So Sweet
And seeing Halle Bailey's Ariel featured in the designs is the best.
We may receive a portion of sales if you purchase a product through a link in this article.
While kids do love a new movie, what they really love is the new movie merch. The Little Mermaid is Disney's latest live-action retelling of an animated classic, and is set to premiere in theaters on May 26, 2023. Starring Halle Bailey as Ariel, Melissa McCarthy as Ursula, and Javier Bardem as King Triton, it's expected to be an absolute smash hit. Which means kids are ready to rock the new Little Mermaid in all of their toys and clothing. Hanna Andersson is already a step ahead with their The Little Mermaid collection.
I know, I know — your kids probably already have a million pairs of jammies with Ariel, Sebastian, and the whole gang. But the new Hanna Andersson Little Mermaid line, especially the pajamas, is extra special because it features Ariel as portrayed by Halle Bailey. This is such a delightful force of representation, and I'm obsessed with all of the diversity already showing up in the movie, so to see brands go straight for the exact look of Halle Bailey in their Little Mermaid products is really special. The Hanna Andersson Little Mermaid collection features their classic long john pajamas, short john pajamas, a beautiful tulle dress, and even a swimsuit (which will be available in early June).
The pajama sets all feature Halle Bailey's Ariel on the shirt and pants (while holding a dinglehopper, of course), along with stars and other sweet ocean symbols, while the tulle dress has a gorgeous fin-inspired top with a sweet blue tulle overlay covered in gold ocean symbols. And my absolute favorite part of the whole collection is that it's available in sizes 2 to 12. I have three daughters and love for them to match, so this is great, but I also love that Hanna Andersson knows that even the "big kids" want to dress with their favorite characters on them, too.
The Little Mermaid collection is available to shop from now at Hanna Andersson, with the swimsuit coming early June. Go ahead and pick out the dress (or the jammies, no judgment on movie-wear here!) and plan your big night with your kiddos to see The Little Mermaid on May 26.