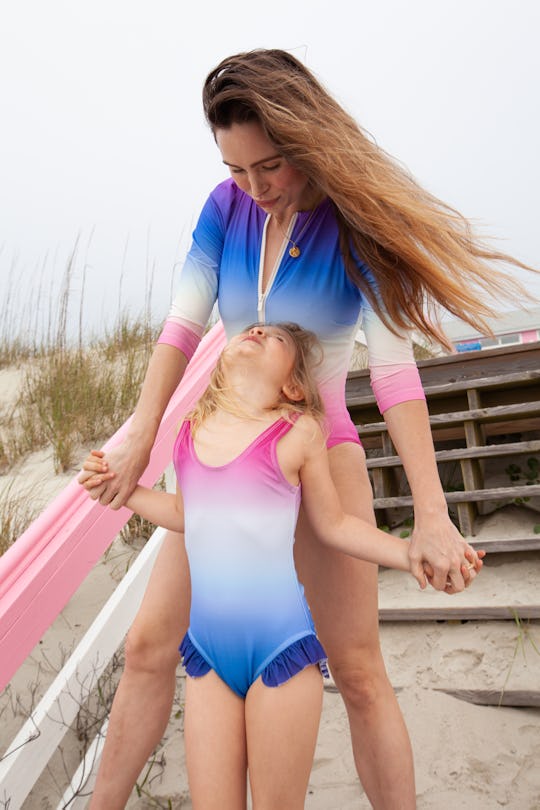 STYLEST
The STYLEST x Lola + The Boys Mommy & Me Swimwear Line Is So Perfect
So you can look cute *and* keep your boobs in place when you show your kids how to do a cannonball.
There are few things I love more than being at the pool with my three girls. I love tossing them into the water, I love pretending to be dolphins with them, I love swimming races and watching them get the courage to jump off the diving board — all of it is a joy. The problem for me every summer is finding a swimsuit that makes me feel my best, but also allows me to do all of the mom things at the pool. Clearly, I'm not the only one with this issue, and that's why the sculpting swimsuit brand STYLEST has teamed up with Lola + The Boys for a gorgeous mommy and me swimwear collection.
Created by fashion experts Joyann King Michael, Alia Bosworth, and Chrissy Mc Curdy, STYLEST is a brand meant to empower women by giving them swimwear that actually fits. The STYLEST system includes AqualingerieTM, which are swim bras designed to either lift, minimize, or push up your chest. And the sculpting swim has 4x the compression of traditional swimwear with bult-in shapewear. The brand is also machine washable (huge!) and even has cover-ups that can dry instantly (a must if your child decides they've had enough of the pool and would like you to take them home, please).
With the Lola + The Boys collab, STYLEST has helped create their same sculpting swimwear, but in a mommy and me line that is just too adorable. I have three daughters and matching them is my absolute favorite, so of course I'm obsessed, but mothers of sons will also love the fun prints and designs. Lola + The Boys is already a whimsical kids' brand, and I love that it makes the mom swimsuit so fun, too. The STYLEST x Lola + The Boys collab includes four prints, each made in one Lola + The Boys style, to match multiple coordinating pieces from STYLEST. The drop will go through the month of May, with the palm print pieces available Mother's Day and the leopard and ombré suits hitting at the end of May.
There are so many options with this collab, too, from one-piece suits with long-sleeves to neck tanks to coordinating pieces from the STYLEST line that match the prints of the sarongs (and even cardigans!), you can really make this line work for you. The STYLEST women's pieces are also available in sizes XS - 2X, ranging from $98 to $278. The children's suits are available in sizes 12 months to 14Y for $42. (I love that the kids' swimwear goes up to larger sizes for the big kids who still love to match mama!)
The entire line is so cute and I'm so excited to match with my girls this summer in swimwear that will make me feel great, but will also keep everything in place when I'm showing them the proper way to do a cannonball. The line is available now on the STYLEST website with more drops to follow. Go splash!