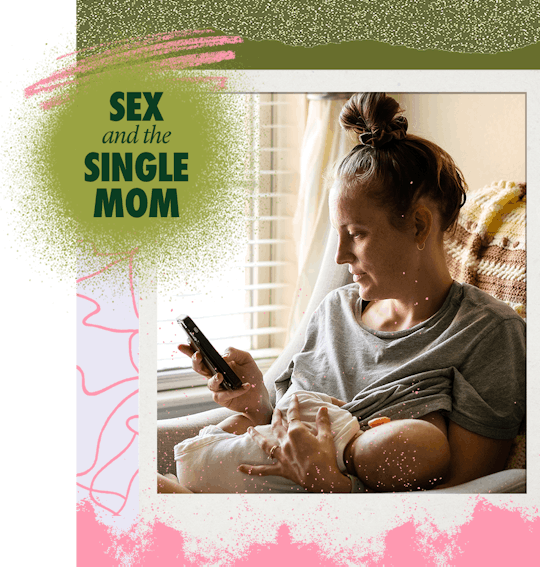 The Best Dating Apps For Parents
A single mom's guide to dating apps (yes, she's tried them all).
I've been separated for about a year and I'm finally ready to try online dating but I don't know where to begin. Last time I was "out there" I had a flip phone. Ha. I've never so much as online-dated and am overwhelmed by how much things have changed. What apps would you suggest and how do I ease into online dating in a way that isn't awkward and anxiety-provoking.
Signed,
A 40-something newish single mom of teens
First of all, welcome!
It's wild out there and feeling overwhelmed is valid regardless of how long you've been separated and how long you've had dating apps on your phone. Almost everyone swiping feels some form of anxiety because no one knows what they're doing. Leaning into that awkwardness is the beauty (and hell!) of online dating. Like, we all showed up to the same simulation together.
Before I discuss apps, I want to be clear that my aim in this column is to shamelessly explore sex and dating through a "single mom" lens that validates personal desire as opposed to societal expectation. Many apps such as eHarmony, Christian Mingle, and Next Love are set up as "dating to marriage" pipelines, assuming that single moms are looking for serious committed relationships and domestic partnerships, which is fine if that's what you're looking for, but most single moms I know (myself included) are not.
Just because we have kids, or are at a certain age, doesn't mean we're looking for serious relationships. The reality is, the majority of the women I hear from are very comfortable with the idea of casually dating while they still have kids at home. I speak from experience when I say that separating one's domestic and romantic partnerships can be incredibly fulfilling and through this column, I hope to normalize all the different ways single moms make sex and dating work for them.
My aim in this column is to shamelessly explore sex and dating through a "single mom" lens that validates personal desire as opposed to societal expectation.
Where were we? Ah, yes. Apps! The very act of swiping is a shallow enterprise and it's very hard to know based on pictures and prompts who we'll vibe with, so my first piece of advice would be… don't overthink it. Next, I highly recommend paying extra for a premium membership. "Swiping" on people often feels like too much at first, and with a premium membership you can see who "swipes" on you and then decide whether you want to "swipe" them back.
Appealing to all sexualities and dating profiles, here are my five top picks.
Although it may have the worst prompts of all other dating apps, Hinge feels like the most equitable and least creepy of the dating apps. It's well designed with voice prompts, and you can include short videos, which I find to be far more telling than photos. I also like not having to make the first move all the time. Which brings me to…
Bumble is where women make the first move so if you're a woman seeking a man, you will have to break the ice. I really love this as a concept, but I have found that it gets exhausting after a while. Also, your matches expire after 24 hours, so you have to set alerts so you don't miss potential matches. I do like that you can sync your Spotify to Bumble. A shared love of Sophie B Hawkins is meaningful to me.
Her is for lesbian, bisexual and pansexual daters and with over 4 million users worldwide, is beloved by its community. And speaking of community, Her isn't just a dating app — it also boasts a "communities" space that gives it a social media vibe (in a good way). And with a premium membership you can go incognito and search for singles before making your online profile public. Her wants you to feel safe, secure and ready (on your terms!) to make your move, which I love.
Feeld is a sex-positive dating app that allows you to stay anonymous while interacting with singles/couples who are extremely transparent about their desires. Whether you're looking to stay home and sext, experiment with ENM* with someone who is GGG**, DFW***, or perhaps guest star in a FMF*** type scenario, there's something for everyone on Feeld. I find the transparency, sexual freedom, and kink positivity refreshing. That said, cis men/couples far outnumber single women/femmes on this app. (I recently got back on Feeld after a several-month hiatus and had many thousands of swipes on my profile — a profile where you cannot see my face, only one of my eyes, a shoulder and a meme from Succession.) All of this to say, prepare to be overwhelmed if you are a single woman.
*Ethically Non Monogamous **Good Giving Game ***Down for Whatever ****Female Male Female (threesome)
Another great queer dating app, lex is the coolest app in the bunch. All that awkward shallow swiping based on the way someone looks isn't a factor at lex, where dating profiles exist as witty paragraphs with brief descriptions of who you are and what you're looking for. Inspired by newspaper personal ads, Lex prioritizes words over selfies. Which in my opinion is hot AF.
Unsolicited yet Highly Important App Dating Safety Tips:
Your dating life should only ever center your personal comfort, pleasure, and joy and no one (least of all me!) should ever tell you what's best for you. That said, I have learned a few things about feeling safe.
1. I never meet with a man unless I know his last name first. If I can't do a Google background check, we're not meeting. Depending on the situation, I may or may not share my last name, too, but there have been many times when I have not given my last name because, while it is indeed a double standard, the truth is that it is far safer for a man to meet with an anonymous woman than a woman to meet with an anonymous man. And until that changes, I feel empowered and justified by my choice to insist on a man's information, even as I refused to disclose my own. And I would advise any non-cis man to do the same.
2. Take all the time you need. A lot of people (cis men) say things in their profiles like "I'm not here to be pen pals. I'll want to meet you right away" and in my opinion, that is red flag central. You should never rush into meeting with anyone until you're ready. If you're feeling pressured to meet right away, block and delete immediately. Which brings me to…
3. Do not be afraid to flake. You do not owe the person you match with on a dating app anything — including your company if you're not feeling it. I know a lot of women (myself included) who feel like if we make a plan, we should keep a plan, but when it comes to meeting strangers on the Internet, you absolutely do not need to keep a plan. This goes both ways: If someone cancels on you, you should see it as absolutely normal and expected behavior when you're online dating. Don't take it personally. People cancel for a variety of reasons and rejection is part of the deal, as is being ghosted. Having a sense of humor about the whole thing and not taking yourself/online matches too seriously will make a pretty major difference in your experience.
4. If you're planning on having casual sex, get tested and be ready to share your results. I was not prepared for this when I first started dating and was pleasantly surprised by how GGG everyone was to get tested and share results. It is not uncommon for people to list their STI results the same way they do their Covid vaccination status (specifically on apps like Feeld and #open) which is refreshing, sexy, and very different than it was 20 years ago.
Finally, I'd like to say that online dating can be exhausting and sometimes you need a break. I recently deleted all the apps from my phone because there is nothing wrong with being alone or taking a break. Let this be a gentle reminder as we embark on this conversation together that not having sex or dating is great too. Let us never underestimate the gratification of solo sex, self love, and platonic dates with friends.
Love,
Rebecca
p.s. I want to answer any and all questions you all have about the exhilarating, terrifying, and wonderful experience of dating and having sex with new people after becoming a parent. Send me your questions at rebeccawoolf@gmail.com.
Rebecca Woolf writes Romper's Sex & the Single Mom series. She has worked as a writer for more than two decades, and is the author of two books, Rockabye: From Wild to Child, and the forthcoming All of This: A Memoir of Death and Desire. She lives in Los Angeles with her four children.